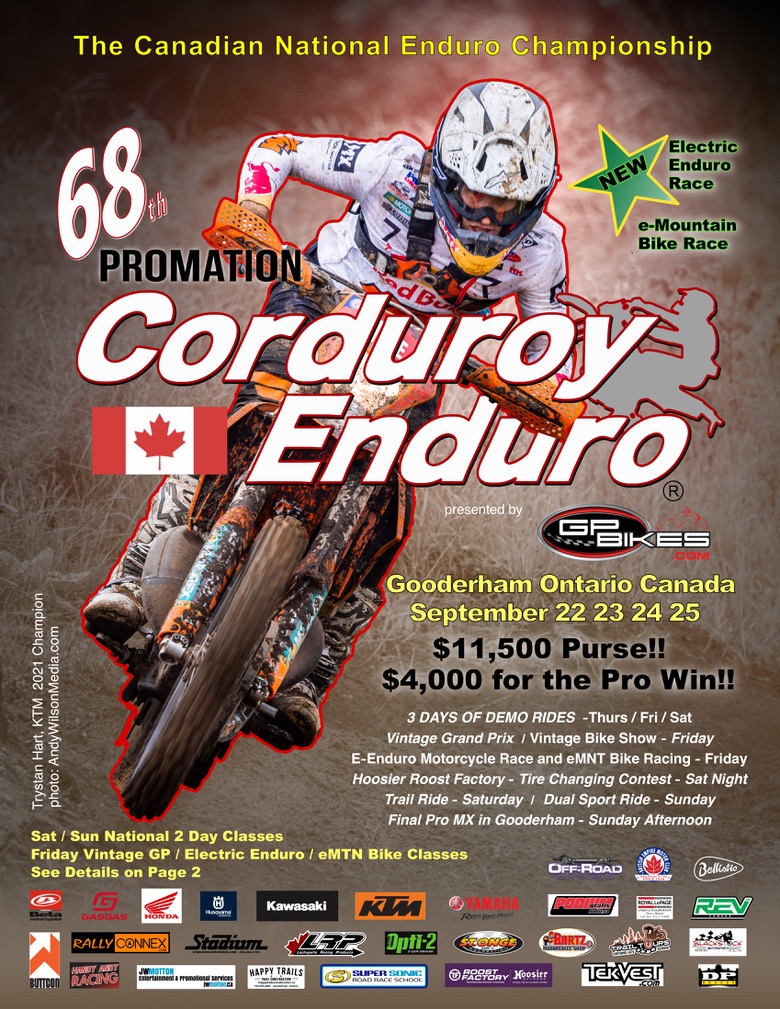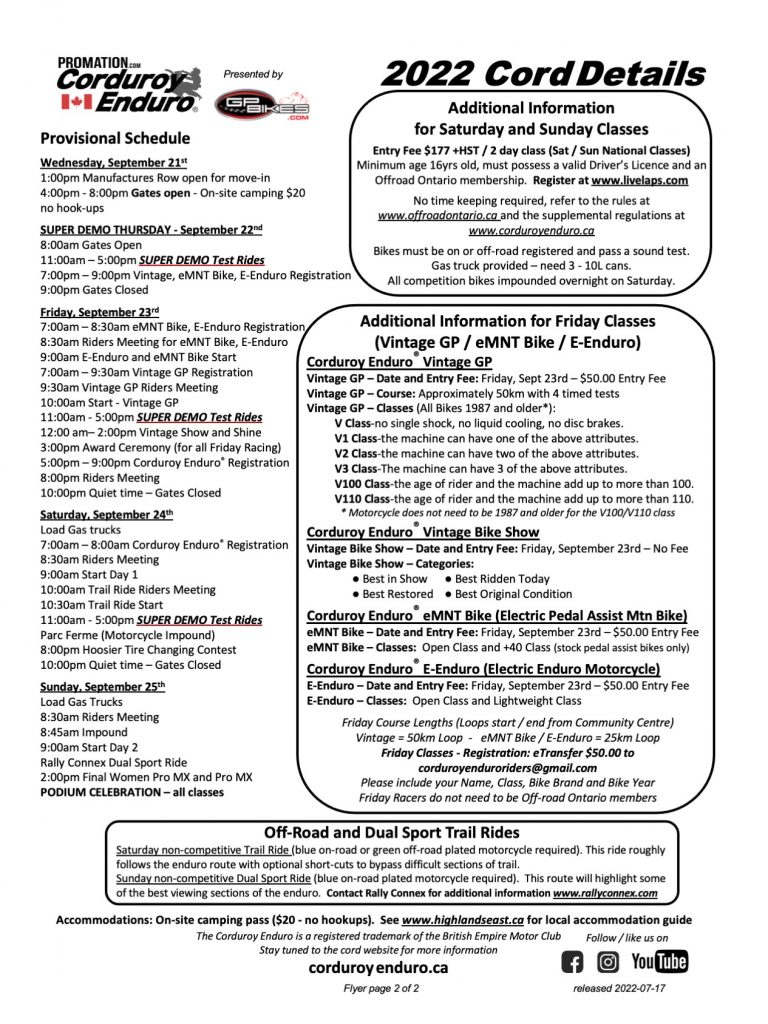 The 2022 Corduroy Enduro®:
The Promation Corduroy Enduro® – Presented by GP Bikes…….Canada's Toughest Race!
The 2022 Promation Corduroy Enduro® – Presented by GP Bikes is scheduled for Friday, September 23rd – to Sunday, September 25th.
Join us in Gooderham, Ontario for 3 days of Demo rides (Thursday, Friday and Saturday 11:00 – 5:00), the Vintage GP and the Vintage Bike Show on Friday, The Hoosier Tire Changing Contest on Saturday night, a Trail and Dual Sport Ride (Saturday and Sunday), and of course a weekend of great racing, great friends and lots of fun. We are headquartered at the Gooderham Community Centre, also the location of the Marketplace, food trucks and the final Pro MX Sunday afternoon.
If Vintage bikes are your thing, the Vintage GP takes place Friday, September 23rd, with competitors facing over 60km of trails in 4 timed tests. Bring out your 1987 and older motorcycle and join the fun. Also on Friday, after the Vintage GP the Vintage bikes are displayed for the Vintage Bike Show – 12:00 to 2:00. Check out the New Vintage GP tab.
Also New for 2022 is the Electric Enduro Race and the e-Mountain Bike Race! Stay tuned for more information as it becomes available!
A big Thank-you to all of our 2022 Sponsors for your support and to our tireless Volunteers, this great event could not happen without you.
Here's what happened at the 2021 Corduroy Enduro®:
2021 – Results on Livelaps:
Event Photos: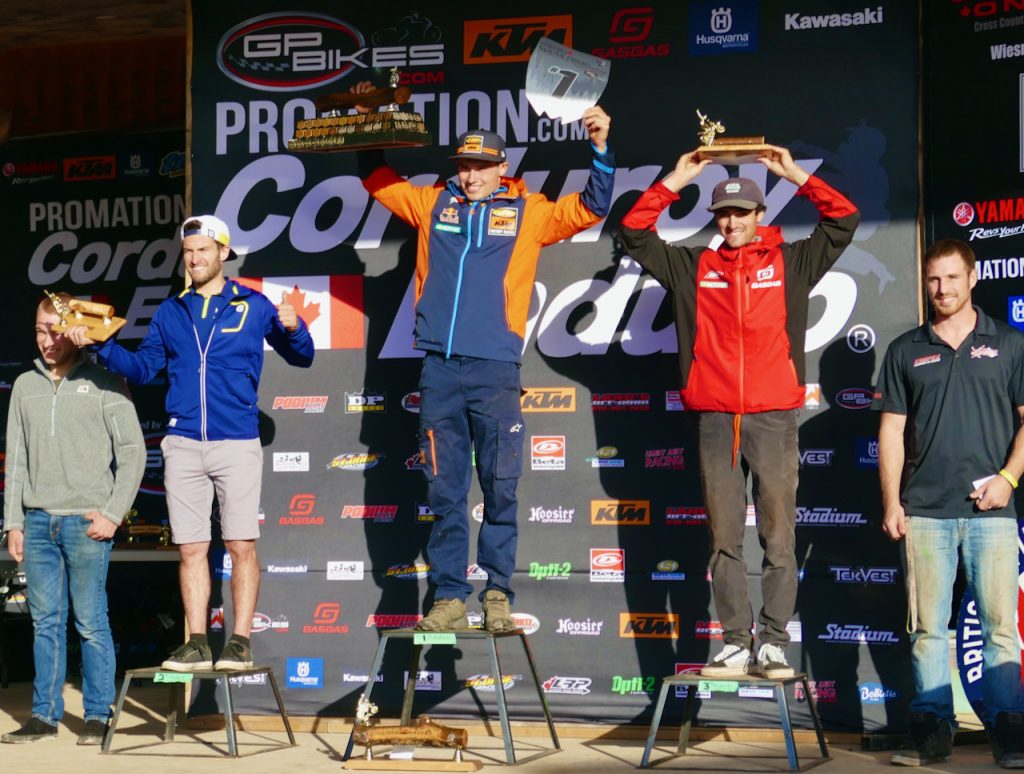 The 2021 Corduroy Enduro® – Top 10 Pros
Trystan Hart, 19E KTM
Alexandre Gougeon, 9F Husqvarna
Spenser Wilton, 5F GasGas
Jeremie Lanthier, 13C Husqvarna
Jarred Jonker, 16A Husqvarna
Brian Wojnarowski, 10A Yamaha
Kevin Depuis, 18F Husqvarna
Mel Mazaudier, 16E Beta
Ryder Heacock, 11A Yamaha
Maxime Belanger, 10B KTM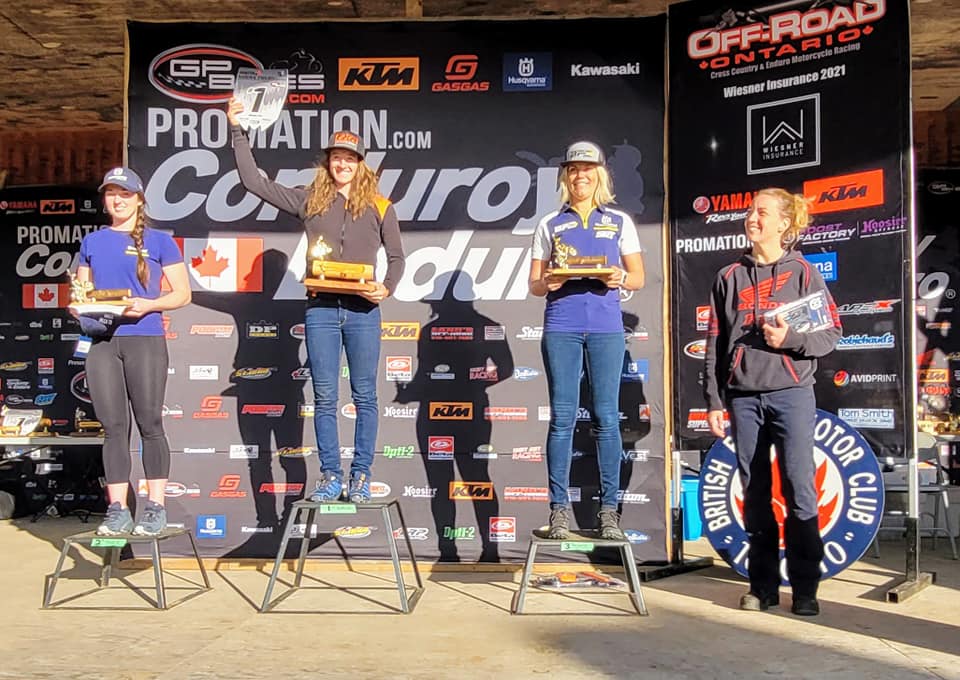 The 2021 Corduroy Enduro® – Top 10 Women Pros
Shelby Turner, 20F KTM
Lexi Pechout, 21F Husqvarna
Jannie Devin-Lamontagne, 23F Husqvarna
Mary Ann Antoine, 20B KTM
Emma Sharpless, 22F KTM
Katherine Biosvert, 20E KTM
Emily Kretschmann, 24E Beta
Megan Sharpless, 21E KTM
Rose Lantaigne, 23E KTM
Marika Hamel, 20C KTM
Sections of the 2021 Program: