Canada's toughest race, the pinnacle of Canadian Enduro racing, the Corduroy Enduro® is set to take place this September 23rd to September 26th, 2021.
Planning is underway for this year's event, and we look forward to racing in Haliburton, Ontario after a year off due to the COVID-19 pandemic.
Demo Days – Thursday, Sept. 23rd and Friday, Sept. 24th, 2021
Vintage GP – Friday, Sept. 24th, 2021
Corduroy Enduro 2 Day Race – Saturday, Sept. 25th and Sunday, Sept. 26th, 2021
Registration opens on August 3, 2021, at 12 noon through Livelaps.com
Stay tuned for more details as they become available.
The 2019 Promation Corduroy Enduro ® – Presented by GP Bikes is now complete and a new 2019 champion has been crowned. Congratulations to 23 year old, Evan Smith, out of Jefferson, Georgia on his win.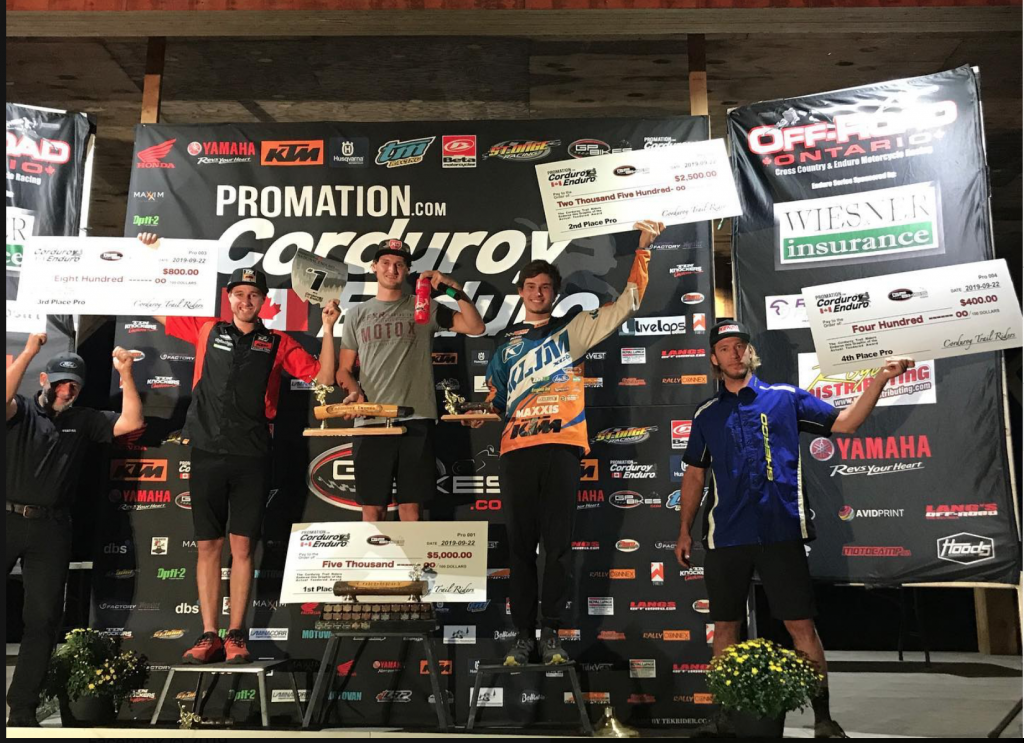 September 19th to the 22nd in Gooderham, Ontario was the location for the 66th running of the Corduroy Enduro® a 3-day grand finale of the Promation National Enduro Championship. The weekend saw Evan Smith taking home the top prize of $5000, with a total purse of $12,000 in total prize money. We were treated to beautiful weather and 3 days of intense competition.
As well as the 3 days of racing action, riders also enjoyed; Super Demo Thursday; The Vintage GP on Friday; a Dash for Cash winner takes all on Saturday; and a battle to the finish – final Pro MX test on Sunday. All this in addition to the regular 24 test stages.
2019 Promation Corduroy Enduro Top 10 Finishers
Evan Smith 6A Pro Husqvarna
Trystan Hart 4B Pro KTM
Philippe Chaine 5A Pro KTM
Nick Fahringer 7E Pro Sherco
Dylan Macritchie 6E Pro Sherco
Connor Brogan 6C Pro Yamaha
Jeremie Lanthier 3A Pro Husqvarna
Jeremy Daudelin 6B Pro Husqvarna
Charles Tremblay 7D Pro Yamaha
Kevin Dupuis 3D Pro Husqvarna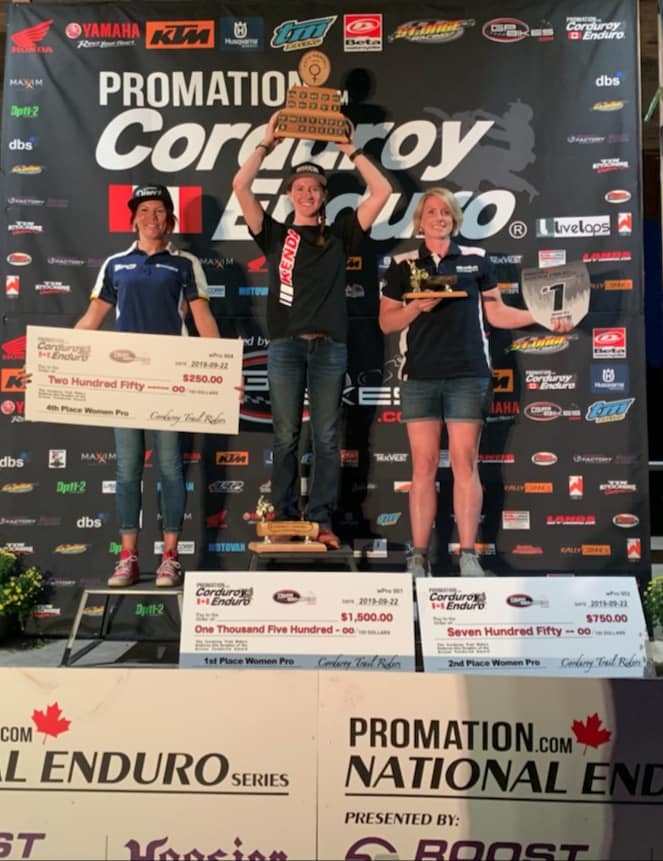 2019 Promation Corduroy Enduro Top 5 Women Pros
Shelby Turner 6A Pro KTM
Melissa Harten 4B Pro KTM
Lexi Pechout 5A Pro Husqvarna
Jannie Devin-Lamontagne 7E Pro Husqvarna
Kristen Broderick 6E Pro KTM
Results