The 2018 Promation Corduroy Enduro – Presented by GP Bikes is coming September 22nd and 23rd with special guest David Knight.
Big News!!!
After competing in the Corduroy Enduro Race, Former World Champion David Knight aka (the Knighter) will be teaching 3 – 1 day riding schools, Sept 25th, 26th, and  27th, 2018.
Book now as only a limited number of spaces are available each day, by contacting Steve at Trail Tours +1 (705) 875-2980.

Corduroy Vintage GP, Vintage Class and Vintage Bike Show
Bring out your vintage bike and race in our special 1 day, 60km Corduroy Vintage GP or race as part of the "regular" 2 day Corduroy Enduro in our "vintage class".
Or if you just want to show off your beauty, enter her in our Vintage Bike Show.
Visit our "Event Info" page for more information.
The Corduroy Enduro Movie is here…
Congratulations to Philippe Chaine, winner of the 2017 GP Bikes Corduroy Enduro® …Canada's Toughest Race, presented by KTM!!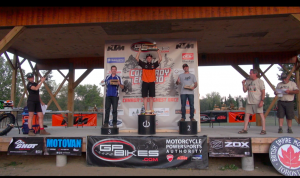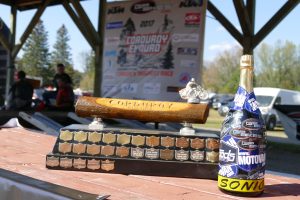 On September 23-24, 2017 we saw the 64th running of the Corduroy Enduro featuring the famous Tunnel of Love, Green's Mountain, The Burnt River Crossing, Sedgewicks Gravel Pit, The Beer Pit, an Enduro X Stage and numerous other woods and special test challenges.
The Corduroy was a hard endure long before "Hard Enduro" was coined as a phrase and next year will be our 65th running of the event.  Come on up to Gooderham, Ontario, to test your riding skills through the historic hinterlands of Upper Canada (September 22- 23 2018)!
Click here for 2017 Corduroy Enduro pics from Keith Hamilton: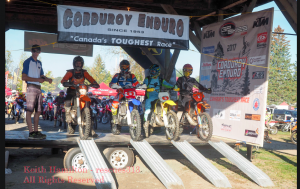 Click here for 2017 Corduroy Enduro pics from Jeff Morgan Photo: