Admission – Admission to the Corduroy Enduro® is free; however, a one-time camping fee of $20 per overnight vehicle will be collected at the gate to the Community Centre. The Corduroy Enduro® issues wristbands for admission to this event. All riders and fans must sign a waiver to obtain their wristband.
Please read and sign the 2023 waiver by clicking on the link below. You will receive a confirmation email that needs to be shown at the gate. If you are unable to complete the electronic form, a paper copy will be made available at the gate. Wristbands are valid for the entire event (Thursday to Sunday) and should not be removed until the completion of the event.
https://greenleafevents.wufoo.com/forms/z1qeiyn31dpf4uu/
Camping – The local Municipality has passed a by-law to temporally allow Corduroy Enduro® Racers and Fans to use the Community Centre Grounds (including overnight camping), please read and respect the following items:
Camping – Primitive Camping – Primitive Camping is available on the Community Centre Grounds for a fee of $20 per licensed vehicle, payable upon entrance to the Community Centre grounds. All persons entering the Community Centre grounds MUST sign a liability waiver and receive a wrist band (refer to Admission above).
Primitive camping means no electricity, water or sewer connections available, so come prepared. Port-a potties are available throughout the camping area. Camping spaces cannot be reserved and are on a first come first serve basis. Camping within the Market Place / Vendor Area is restricted. Please respect the lumberyard property and park in designated areas only. This is a working lumberyard and open for business during the week.
Gates open / close times:
Wednesday 4:00pm to 8:00pm
Thursday 8:00am to 9:00pm
Friday 7:00am to 10:00pm
Saturday 7:00am to 10:00pm
Sunday 7:00am to 10:00pm
Monday Gates close at 12:00 noon
Camping – Noise Curfew – Quiet time is from 11:00pm to 6:00am each night. No loud generators please, let's respect our fellow racers and our Community Centre neighbours.
Camping – Campfires – Absolutely no fires permitted. All grill ashes must be removed off-site after the event weekend. The organizer reserves the right to restrict or ban all fires.
Camping – Sanitation – All waste and wastewater MUST be disposed of properly off-site at a dump station. There are no dump facilities on site. Person's caught dumping black or grey water will be immediately ejected from the facility.
Camping – Trash – Please be courteous and bag all your trash, placing it in or beside the provided garbage barrels for pick-up by the local Municipality.
Corduroy Enduro® Race Headquarters – Race Headquarters is at the heart of the action for the race weekend. Watch the morning race starts and the Final MX test, visit our vendors and food trucks or visit the manufacturer and Pro Rider pits. Located at the Robert McCausland Memorial Community Centre (1043 Community Center Road, Gooderham, Ontario K0M 1R0).
Demo Rides – Thanks to our motorcycle sponsors, you have the opportunity to ride one of the 2024 off-road models on Super Demo Thursday and Friday 11:00 to 5:00 and Saturday 11:00 to 2:00 . Bring your off-road riding gear and your drivers licence. Individual manufacturers may have other requirements.
Emergency 911 – If you are a rider or a fan and you experience a medical emergency please call 911 and notify a track official immediately. Track officials can assist with directing emergency vehicles as required.
GasGas e-Mountain Bike and E-Enduro races – Races will be held on Friday starting at 10:00 with the bikes starting and returning to the Community Centre after a 25km loop.  e-MTN bike race classes include: Expert and Novice.  E-Enduro race classes follow the Off-Road Ontario Classes A and B.
Fan Conduct – Offensive signs, public intoxication and profanity will not be tolerated.
Food Vendors – Food trucks / vendors will be available during the weekend.
Information – A Corduroy Enduro® representative will be available, at limited times each day, at the Community Centre to assist with general information, lost and found items and other event-related services – Look for the "Cord Dispatch" Signage.
Lost and Found – Items will be available for claim at the Community Centre. The Corduroy Enduro® is not responsible for lost or stolen items.
Parking – Day parking at the community centre is free. Please park in designated areas only, keeping the fire lanes and roadways / driveways clear.
Parking – Special Needs – Please notify a staff member if you have specific parking requirements.
Parc Ferme (Motorcycle Impound) – All competition motorcycles will be impounded on Saturday night. Riders will only be allowed to work on their bikes for 15 min prior to the impound on Saturday night and another 15 min prior to starting Sunday morning. The Corduroy Enduro® is not responsible for lost or stolen items. Security guards will be on duty from 7:00 pm to 7:00 am Saturday Night.
Pets – Pets are welcome but must be kept on a short leash at all times and never left unattended, including in vehicles. Pet owners are responsible for their pet and the removal of pet waste.
Programs – Copies of the 2023 Promation Corduroy Enduro® Program will be made available at Race Headquarters (Robert McCausland Memorial Community Centre – Gooderham). The Program contains the official weekend schedule, maps of the course, route sheets, spectator points and other interesting information.
Purse – The 2023 Promation Corduroy Enduro® has a purse of $11,500 to be awarded based on the rider's overall standing in their class as follows:
Pro – 1st $4000 2nd $2500 3rd $1000 4th 500 5th $200
Woman's Pro – 1st $1500 2nd $800 3rd $500 4th $300 5th $200
Racer Classification – The Corduroy Enduro® follows the Off-road Ontario classification system.
Racer Number Plates – Number plates are different colours depending on the class the rider enters as follows:
Pro and Expert – White numbers on a red background
Women Pro – White Numbers on Blue Background
All other classes – Black numbers on a yellow background
Racer Arrowed Routes – All riders do not complete the entire course but will split off at specifically marked points depending on the difficulty of the upcoming terrain. All riders have a coloured sticker on their front number plate which corresponds to the route the rider is to follow.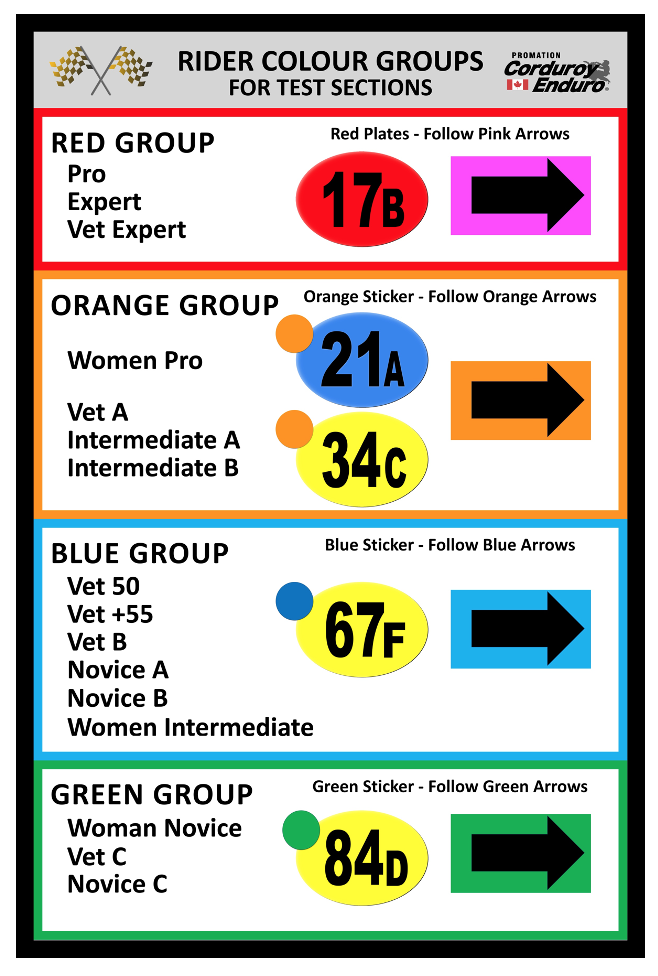 Racing Start Times – 10:00 for Vintage GP, eMTN Bike and E-Enduro riders on Friday. 12:00 for Vintage Show and Shine at the Community Centre also on Friday and 9:00 for all classes Saturday and 8:00 for all classes on Sunday.
Rally Connex Trail Ride – Saturday: There will be a trail ride on Saturday for anyone who wants to enjoy the Corduroy Enduro in a non-competitive format. Green or blue plated motorcycles required. Register at RallyConnex.com The ride leaves at 9:30.
Rally Connex Dual Sport / ADV Tour – Sunday: Take in some of the best spectator points along Sunday's Enduro route while enjoying the beautiful backroads and trails of the Highlands. Blue on road plated motorcycle required. Register at RallyConnex.com The ride leaves at 8:00.
Re-entry – Guests may exit and re-enter the Community Centre Area (Race Headquarters) as long as they have their wrist band pass on.
Refunds – The Corduroy Enduro® does not issue refunds for parking passes under any circumstances.
Restrooms – Port-a-potties are available on the Community Centre grounds and limited gas stops / spectator points throughout the weekend.
Scoring / Race Results – Refer to the Live Laps website on your phone or computer for up-to-date live timing and scoring. A TV with live timing and scoring will be set up at the Community Centre for viewing.
Souvenirs – Corduroy Enduro® Souvenir T-shirts, hoodies and hats are available for purchase at the Off-road Ontario trailer located at the Community Centre Main Entrance.
Spectator Viewing – Refer to the 2023 Corduroy Enduro® Program for Spectator viewing times, locations and directions.
Track Access – Spectators must stay off the course and keep a safe distance from the racing action. It is your responsibility to keep yourself and your children a safe distance from the course. Never turn your back to the oncoming racers.
Husqvarna Youth Enduro – New for 2023 (for riders ages 15 and under).  This race takes place near the Gooderham Community Centre at 4:00pm on Saturday.  Classes include Pee Wee, Mini-A, Mini-B and Junior.  Come out and cheer on our future Enduro stars.
Vendor Market – The Vendor Market area is located at Gooderham Community Centre – the Corduroy Enduro® Race Headquarters.
Vintage GP – The Vintage GP takes place at the Community Centre grounds on Friday. Riders will face 50km of trails over 4 timed tests. Classes are as follows:
V Class – no single shock, no liquid cooling, no disc brakes.
V1 Class – the machine can have one of the above attributes.
V2 Class – the machine can have two of the above attributes.
V3 Class – the machine can have 3 of the above attributes.
V100 Class – the age of the rider and the machine add up to more than 100.
V110 Class – the age of the rider and the machine add up to more than 110.
Vintage Bike Show – The Vintage Bike Show is also on Friday, in the Community Centre parking lot. Bikes will be on display at 12:00 – 2:00, awards are at 3:00.
Bike Show categories include: Best in Show, Best Restored, Best Ridden Today and Best Original Condition
Comments, Concerns, Ideas – Please let us know what you think of the event by stopping at the Information Area located inside the Community Centre and completing a comment card.